I'm a mega-fan of RuPaul's Drag Race. While I love all the different elements of drag, my favourite is always going to be the costume design and creation. As a hobbyist costume designer and cosplayer, I love seeing queens come to life on the runway living their fantasy. With the season finale of Season 12 airing tonight, I thought I'd combine my love of Drag Race and my current perspectives on British culture by revisiting and rating all the looks of Season 1 of Ru Paul's Drag Race UK!
I'll start off with a bit about drag in the UK. I think that Drag has a much richer history in the UK than it does in North America, by nature of being more accepted as mainstream culture. This isn't to say that North America doesn't have a long and vibrant history of drag, but rather that it is kind of set apart in its own scene. Drag, particularly camp drag, is much more incorporated into British stage, television, and film productions – think Monty Python, or Christmas pantomimes (which traditionally have a comedic female role performed by a man in drag). American drag is more polished, has more roots in pageant culture, and more emphasis is placed on glamour. This isn't to say that American drag doesn't have camp or comedy or weirdness, because it does, but rather that it just feels a bit more put together. I'm not claiming to be an expert in drag history, but these are just some things that I've noticed. I think that this tweet says it all:
Anyway, without further ado, here are my picks for the best of RuPaul's Drag Race UK!
Week 1: Queen of Your Hometown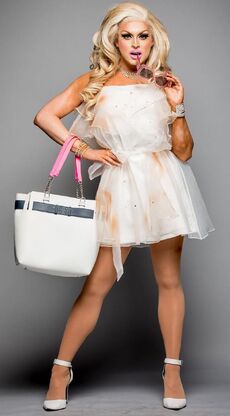 I thought this Essex Girl look was such a fun and cheeky representation of Cheryl's hometown. While it's not the most detailed or over-the-top look, but it's a uniquely British charicature, and the sheer amount of toungue-in-cheek details and Cheryl's performance on the runway really sell it.
Week 1: Queen Elizabeth Realness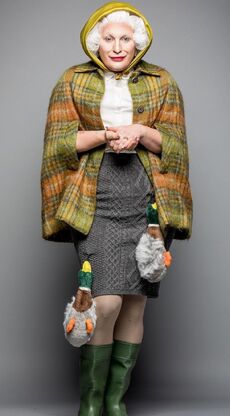 This was a great choice for a first category on Drag Race UK. A literal British Queen. There were a lot of really creative interpretations of the challenge, and it was hard to pick a favourite! Crystal's "Pound Coin" Queen and Sum Ting Wong's "Stamp" Queen were close to the top for me. Ultimately, my favourite was Queen Elizabeth as she would be at Balmoral Estate. I think it was just such a unique and choice that complemented British camp/comedy drag, and was very well executed. A bold choice to go on the first runway as a 93-year-old woman in a tartan coat and wellies, but that's what makes it so good.
Week 2: Bond Girl Looks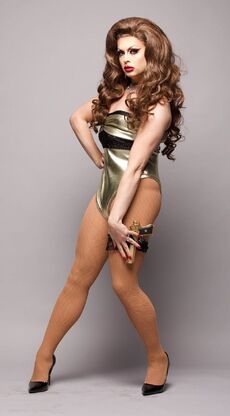 What a great choice for a runway category. An iconic British franchise, but make it fashion! I like this one the best for it's classic style and homage to the early films. The reason why I choose this one as best of the week is because a lot of the other queens had more villainous characters. Bond Girls are the love interests and side-kick of 007, and while some of them are femme fatales, they don't tend to be straight-up villains. While it's up to each competitor to interpret the category as they will, I think that Cheryl represented it best. Is this nit-picky? Yes, yes it is. But it's my blog, so that's my stance.
Week 3: Posh on a Penny
A classic Drag Race challenge. Sum Ting Wong looked amazing and I will fight you. It's polished, nicely tailored, and tells a story. Cheryl Hole's pot scrubber dress should have made the bottom two instead. And yes, there were some beautiful haute couture looks on this runway. But the challenge is posh, which isn't necessarily haute couture. It has more connotations of being fancy and looking smart, which are notes that I think this look definitely hits. Obviously it's just a British-slang take on the classic "Drag on a Dime" challenge, so the "posh" element isn't really key here, but like, if my challenge brief was Posh I would put together something smart and polished too!
Week 4: Snatch Game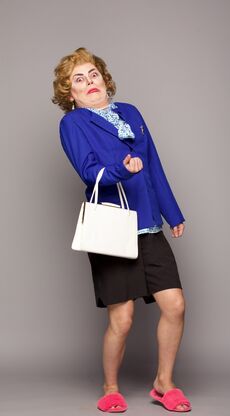 Another classic category. Another category that was difficult to choose a favourite. I chose Baga Chipz's Margaret Thatcher over The Vivienne's amazing Donald Trump for two reasons:
Margaret Thatcher is a British woman, and I liked seeing British public figures being lampooned. I don't think you necessarily have to choose women for snatch game (I liked Sum Ting Wong's Sir David Attenborough and, previously, Kim Chi's "Kimmy" Jong Un). However, I think that Baga's Margaret Thatcher was good drag impersonation, wheras The Vivienne's Donald Trump was just a good impersonation. My list, my rules!
I liked the visual interpretation of Margaret Thatcher with the red eyes because she is an evil, evil woman. And the house slippers. Again, this just further emphasizes that this Snatch Game character was a more unique interpretation, and I liked that.
Week 4: Weird Science
I didn't love this theme for the runway. , but it was a good chance for the queens to represent the weird and club-kid elements of drag. I just didn't vibe with a lot of the looks this week. I think it had potential given the right set of queens, but this wasn't it.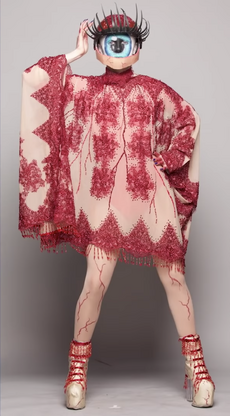 That being said, Blu had an amazing look this week, with or without the headpiece/face makeup. I love the look of the veins and tissue behind the eyeball. It's very conceptual, and has such careful details implemented. This appeals so much to my cosplay-costuming tastes. I want to wear this look!
Week 5: A Day at the Races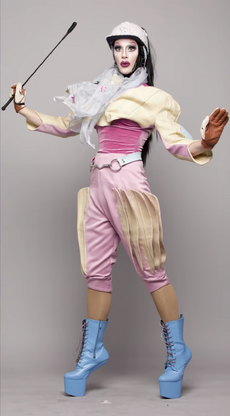 Again, I think that this is a great runway theme that combines something traditionally British with fashion, and leaves itself very open to interpretation. I really loved Cheryl Hole's pretty purple ensemble, but it was a bit too on-the-nose to be the best of the week. This look by Divina is just so weird. This jockey outfit with the long (literal) ponytail, the amazing structured hoof-boots, the bit as a belt, the pastel My Little Pony colours… there are just so many things right with this look.
Week 6: Rainy Day Eleganza
In terms of the theme, again, nailing it. Divina also, again, nailing it. Coming out with the classic yellow rain hat and rain coat, then shedding them to reveal a dress made of the same material. I didn't like many of this week's looks (sorry!), and I might have chosen Cheryl Hole's futuristic silver look if she'd come out with an umbrella. I just don't think it hit the mark of "rainy day" without one!
Week 7: Drag Family Realness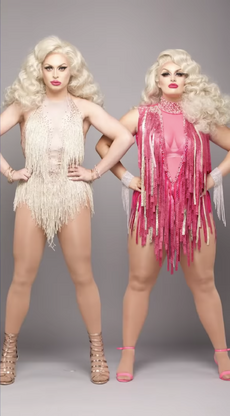 There is no justice in the world. Cheryl should not have been eliminated based on this challenge. I realize that Michelle doesn't like a bodysuits, but come on. They looked incredible, had a strong family resemblance, and nailed their choreography. I do think that, with it coming so close to the wire, Cheryl wasn't quite on the same level as the other queens. I understand why she was in the bottom and sent home but, if things were based entirely on the quality of this challenge, this would be a grave injustice. If you hadn't noticed based on several of my favourite choices, Cheryl was one of my favourite queens this season.
Final Runway Look
All three of the final queens looked beautiful on the final runway. I think each of them represented a different element of drag. The Vivienne's look was so polished, and reminded me of the American queens. Divina De Campo was like something from a pageant, and very classic drag. I liked Baga Chipz's look the best because I think it married these two styles together: a beautiful, glamorous look that still plays into the comedy and camp that separates the British style of drag from its American counterpart. Baga Chipz played on this comedic styling throughout the season, so it was great to see her in by far her most elegant look!
I know a lot of my opinions on the show are really picky, but whatever. I think my perspective as a costumer who focuses on character design is what motivates my choices for best runway looks. Again, all these queens are ridiculously talented, and I loved watching the first season of RuPaul's Drag Race UK. Though I think that Divina De Campo should have won in the end, I think that all the queens who competed brought something interesting and unique to the show. Casting for Series 2 is already over, and I can't wait to tune in next year for more Drag Race UK!